Campagnolo 50th Anniversary Decal / Sticker & Packaging Cards
Perhaps the hardest part to find of the 50th group is the decal, components can be removed from bikes and recycled and sold on and last "forever", the decal however once applied to the frame is used, it can not be removed and applied to another bike.
After a long time looking I have only ever seen one of these for sale on eBay (Item number:160989845418) it sold for €76!!! so that is an indication how rare they are ...
Anyway, I decided get some reproductions made. Here is the result. The repro also has the transparent boarder around the diamond just like the original. I believe this is a pretty accurate reproduction of the original decal. I am happy with it.
I also reproduced some of the packaging.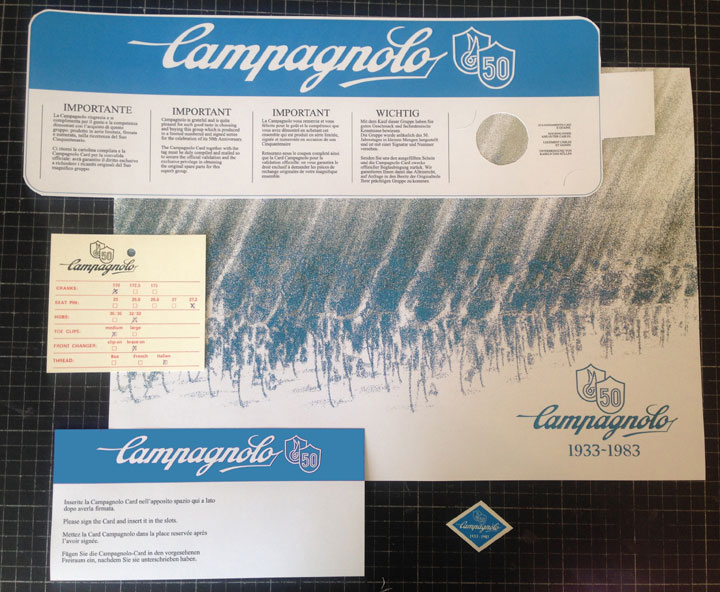 I have two 50th groupsets; and only one had all the original packaging so ... I made a second set through a mixture of scanning and rewriting.
Most of this stuff was thrown away when the groups were fitted and of course the decal can never be re-used.
These are reproductions shown above not original items as seen here >>>
There are slight differences to the originals and the cutting isn't perfect but as a way to complete a restoration or collection they met my needs.
The text on the various items is also of interest; the reverse of the comps slip is also printed with text.
The card from the top of the box has two pre-formed creases as per the original; one on the small tab that tucks into the slot in the box and another just to the left of the 50th log that allows the card (when glued to the box) to be lifted to reveal the cables that were stored in a recess below the card.